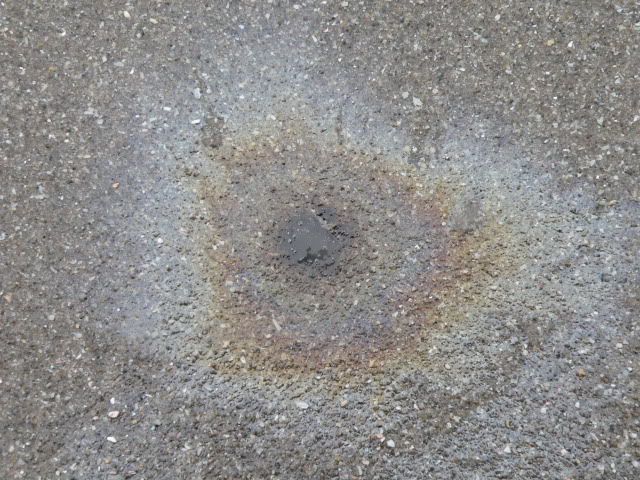 The oil is thick and gluggy. You can press it and it's rubbery. It's like Marmite.
We stood on the beach and felt the immense sadness of threat to nature, to wildlife, to this beautiful creation.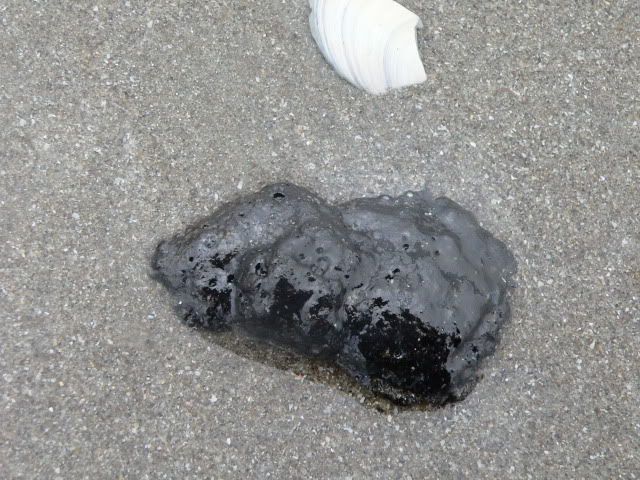 Everyone up here is immensely frustrated. If this oil destroys these beaches, the summer businesses will be devastated. Somehow it has to be stopped... but it feels like people just don't know what to do. It's AWFUL!
The oil from the Rena is floating in on the tide at Mt Maunganui and Papamoa beaches. It's awful. The container ship is still stuck on the Astrolabe Reef and is leaking oil. It looks like there will be a huge amount of oil arriving tomorrow morning. We went down to look today. There was low cloud so we couldn't see out to the trapped ship. But we could see what it was doing on the sand at our feet. Standing on the water's edge, the smell of oil is strong. It's devastating.

Year 13 (surprised): They had carpets back then?

On searching for Paul's Letter to the Romans:
Year 13: Can I have a different Bible? Mine doesn't have the Book of Romans in it...
Me: In those times people followed in their father's footsteps for a job. So Jesus was probably a carpenter.

Meningitis is a super fast and super sad way to die. No one had any idea he was going to die at nineteen. My son and his friends have had to support Josh's brother and learn how to grieve, a lot of them for the first time feeling real grief from the heart.
I always grieve when a child I taught passes away. They've all been boys, the ones I know about. Kyle on his motorbike, riding out his own driveway for the first time. Stephen on a motorbike, the day after his parents gave it to him. Patrick from cancer. Chris in a car accident. Sam, suicide. I don't know how Kosta died but I saw a message in the paper a year later. I can't even remember some of them now - I taught those boys way back in the '80s. They should have been grown ups now, with families.
But Josh was a recent student, a clear memory, my son's close friend's brother, from our brother school last year. So young. So strong. I will pray for him and his family.
And just keep going.
When a boy dies, we are left questioning. Josh Hinaki wasn't one of my diligent students. He wagged my classes sometimes. He never wanted to pick up a pen. He didn't even bring a book most lessons. Of the seven boys I taught from St Pats that year he was the most reluctant worker. But he was also very loveable. Funny. Wicked. Super talented when it came to art. He made the best plasticine models of church architecture. Drew the best flying buttresses. He was the one Amy liked the best.


And he wrote beautifully. Gently. Apparently simple but not really. Two stories we listened to on the radio as children on Sunday mornings were his, The Happy Prince and The Selfish Giant. They always move me and I was amazed as a teenager to make the link between Oscar Wilde who wrote the plays we studied in high school with those stories.

Touching stories. So reading The Selfish Giant to my class last period on a Friday when I'm behind on reports, tired after Year 12 leadership retreat the day before, locked out of the report-writing system for the umpteenth time that day and looking forward (not really) to an evening course on Social Justice... I felt fragile. It was risky.

I started to read. The class settled to listen. I will be brave, I told myself. Then one of my students decided to act out the giant's part from the back row. Rising from her seat, she silently roared, hammered in the 'trespassers will be prosecuted' sign and sulked in bed over the winter of the story. The class swivelled to keep an eye on her, amused and still focused on the story. The image of the tiny linnet, twittering outside the window, brought a second student to her feet. She was the bird. Then she was the children. She was the rain and hail. The tree. The little child. As my heart broke (as usual) over the story, the antics of those two kept us all feeling light of heart!

A little miracle *g*
I wanted my philosophy class to think about the religious overtones/undertones/tones in so much of our literature from years past. So I shared The Selfish Giant by Oscar Wilde. Banished to prison for his homosexual behaviour, Wilde suffered terribly. I felt so sorry for him. Okay, it was sixty years before I was even born, but his story has always touched my heart.


A few minutes later, a Year 9 student raises her hand,
"Let me get this straight - the Bishop wanted Suzanne Aubert to be a prostitute?"
So my co-teacher is explaining the strong character of Mother Suzanne Aubert, founder of the Sisters of Compassion, how she came to Wellington from France a long time ago to work with the poor. The Bishop wanted her to work with the prostitutes (as in helping them to lead a better life). But Sr Aubert felt there was a greater need, to work with orphans... and my co-teacher explained that Suzanne Aubert was a strong woman and wasn't going to let the Bishop push her around.

You sat outside the counsellor's office for half an hour? You didn't think maybe she wasn't coming?
Your friends will be here soon, then you can all chat about your new hair colour.
Did you do something really bad?
Was that thunder?
I'm sorry, there seems to be a mistake, you have me down to teach Takitoru again next year.
Don't throw that pen, it's expensive.
I heard they go to KB at lunchtime every day. Sneak and run. That's their style.
Come closer, I want to mess up your hair.
That's an enormous book. It's not going to fit in a Christmas box!
Okay, I just realised Lauren's not going to be in this class any more.
Has anyone seen Alice?
My computer has a spooling error. I don't even know what that is but it won't print. Spools. Are they even in a computer?
Who would steal a space bar?
Wait a minute, you're late because your parents made you sit down while they argued with you?

I'm hoping for great school spirit and few absences. Now wouldn't that be nice? It's not like there's that many of us.
On other fronts, it's report time and I have a heap of senior reports to write. It's also 'get the Staff item ready' week AND 'make a movie of your subject area for the website' week. I'm not sure when I'm supposed to focus on lessons...
And in just under two weeks, it will be Mercy Day. We will celebrate with bright colours, with the whole school in red, blue, green or yellow, and the Staff dressed up as well. It's a fun day as long as I get all my stuff organised ahead of time. Today we practised the drama and tomorrow we'll work on the other important details for the liturgy. I feel pretty good about it, I've been at the school for quite a few Mercy Days now.